Development of the Personal Assessment of Responsible Drinker Identity (PARDI)
Hello! The Reale-Time Lab at the Psychology Department at the University of Central Florida is conducting a study on alcohol use and behaviors. The study does not involve treatment.
Purpose: This study is to create a new measure on responsible drinker identity.
What you will do: You will complete a survey (~45 minutes) about questions related to alcohol use and identity. If you are apart of the Sona system, you may receive course credit. Also, if you are determined eligible for our second phase, you will earn either a $5 Amazon gift card or .5 SONA credits at your choosing.
You must be at least 18 years old and a UCF student.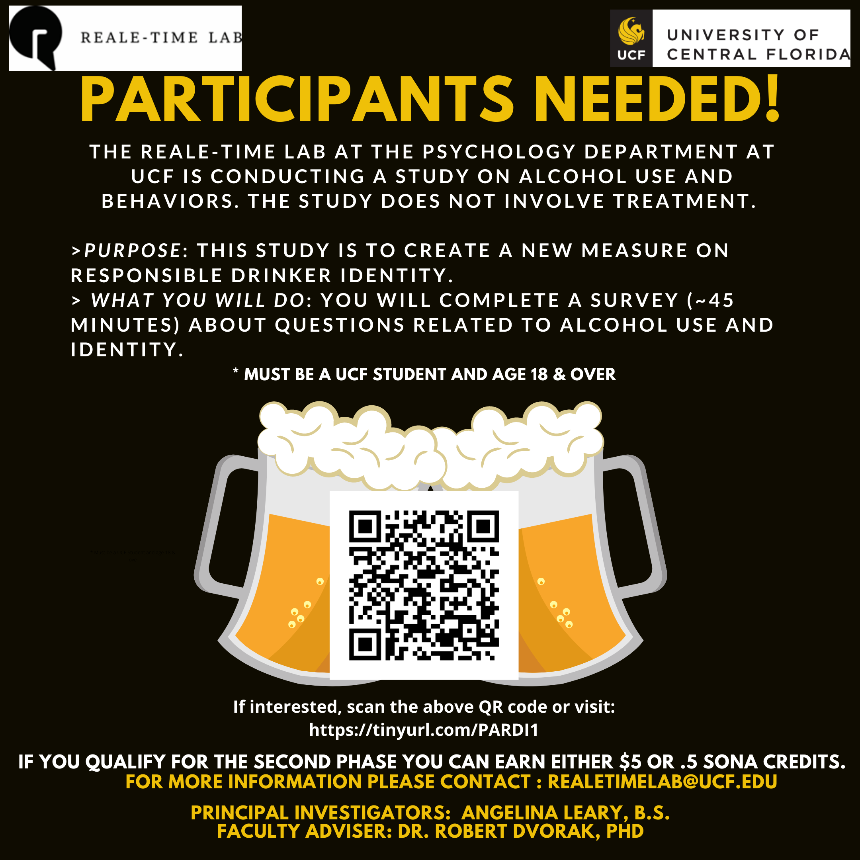 Eating Behaviors and Mood
We invite you to take part in a research study because you are a member of the Orlando-area community. This survey is designed to screen for potential participants in a study at the University of Central Florida. Anyone who is able to understand this consent form, is over the age of 18, and who understands English fluently can complete this survey.

This survey is being done in order to recruit participants for a study in the REALE TIME lab on eating behaviors throughout people's daily lives. We are also interested in looking at the variables involved in this survey, which include demographics, personality, mental health and well-being, and other health behaviors. The results of this study will give insight into how people's eating changes throughout the day, and whether mood or previous eating behaviors affect future eating behaviors. This may help us to understand how people develop and maintain various patterns of eating. It will take you approximately 45-60 minutes to complete the initial web-screen for this study (phase I). If you qualify for phases II and III, you may be contacted to come to the lab. You could earn up to $50 in these later phases.

If you would like to complete the initial screen please select the link below. This link will take you a consent form that further details the study.
Click here to participate in Phase 1
College Students Use of Protective Behavioral Strategies
This survey is the initial survey for a study on alcohol use, safe drinking strategies, and risky behaviors. Based on your responses to questions in the survey, you may also qualify for the follow-up survey, for which you could earn a $5 gift card or Sona credit.
If you would like to participate, please select the link below. This link will take you to a consent form that further details this study.